Coffin Lowry Syndrome
Coffin Lowry syndrome is a rare genetic disorder characterized by
mental retardation;
abnormalities of the head and facial (craniofacial) area;
large, soft hands with short, thin (tapered) fingers;
short stature and/or
various skeletal abnormalities.
Characteristic facial features may include an underdeveloped upper jawbone (maxillary hypoplasia), an abnormally prominent brow, downslanting eyelid folds (palpebral fissures), widely spaced eyes (hypertelorism), large ears, and/or unusually thick eyebrows. Skeletal abnormalities may include abnormal front-to-back and side-to-side curvature of the spine (kyphoscoliosis) and unusual prominence of the breastbone (sternum) (pectus carinatum).
Coffin-Lowry syndrome is caused by mutations in the RPS6KA3 gene and is inherited as an X-linked dominant genetic trait. Males are usually more severely affected than females.
Last modified
20 October 2020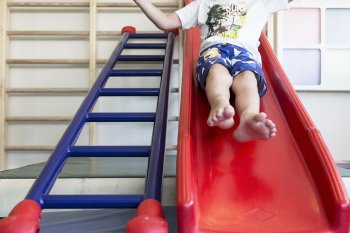 Abbreviation
CLS
OMIM
# 303600 COFFIN-LOWRY SYNDROME; CLS
ORPHA
ORPHA:192 Coffin-Lowry syndrome
General Medical Guideline
Care management for individuals with Coffin-Lowry syndrome is symptomatic, supportive and based is what is known of Coffin-Lowry syndrome.
Disease
Symptom
Premature loss of primary incisors without preceding root resorption. It has been described that primary incisor showed hypoplastic root cementum in the individual with Coffin...
The Coffin-Lowry gene (RPS6KA3) is located on the X chromosome (Xp22.2). Girls may express symptoms of CLS. Most of the persons with CLS are the...
Developmental disability in Coffin Lowry syndrome is usually apparent at age 1-2years
Social Support