Relationship diagrams of the datastructure
13 April 2020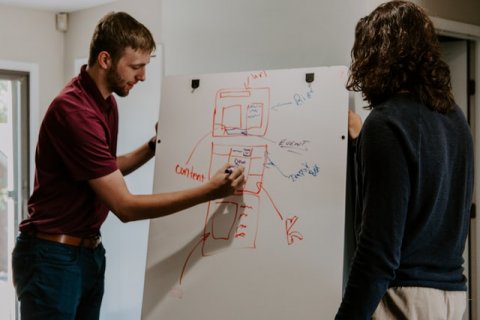 Photo by Kaleidico on Unsplash
The plethora of used medical terms and code types sometimes makes us dazzle, let alone how they relate to each other. We, therefore, publish some diagrams to help to identify different elements and their relationships with each other.
EDIT in June 2021: An updated version can be found here.
Rare Condition
In the first diagram, we show the content type "Rare Condition" and the relationship fields it contains.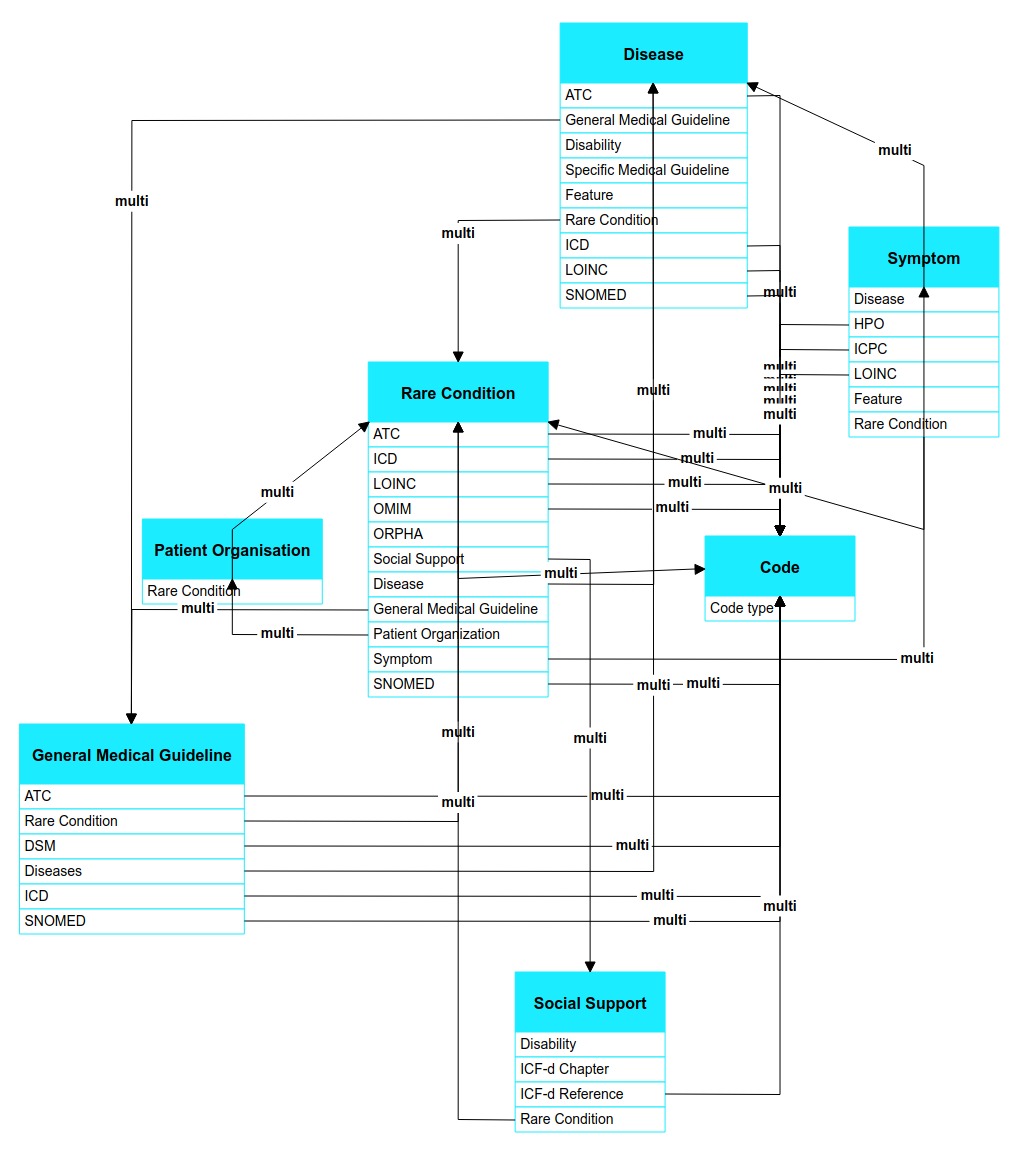 The rest
In the second diagram we show what remains, positioning the previous ones as before. Shown is also what elements are taxonomies instead of content types.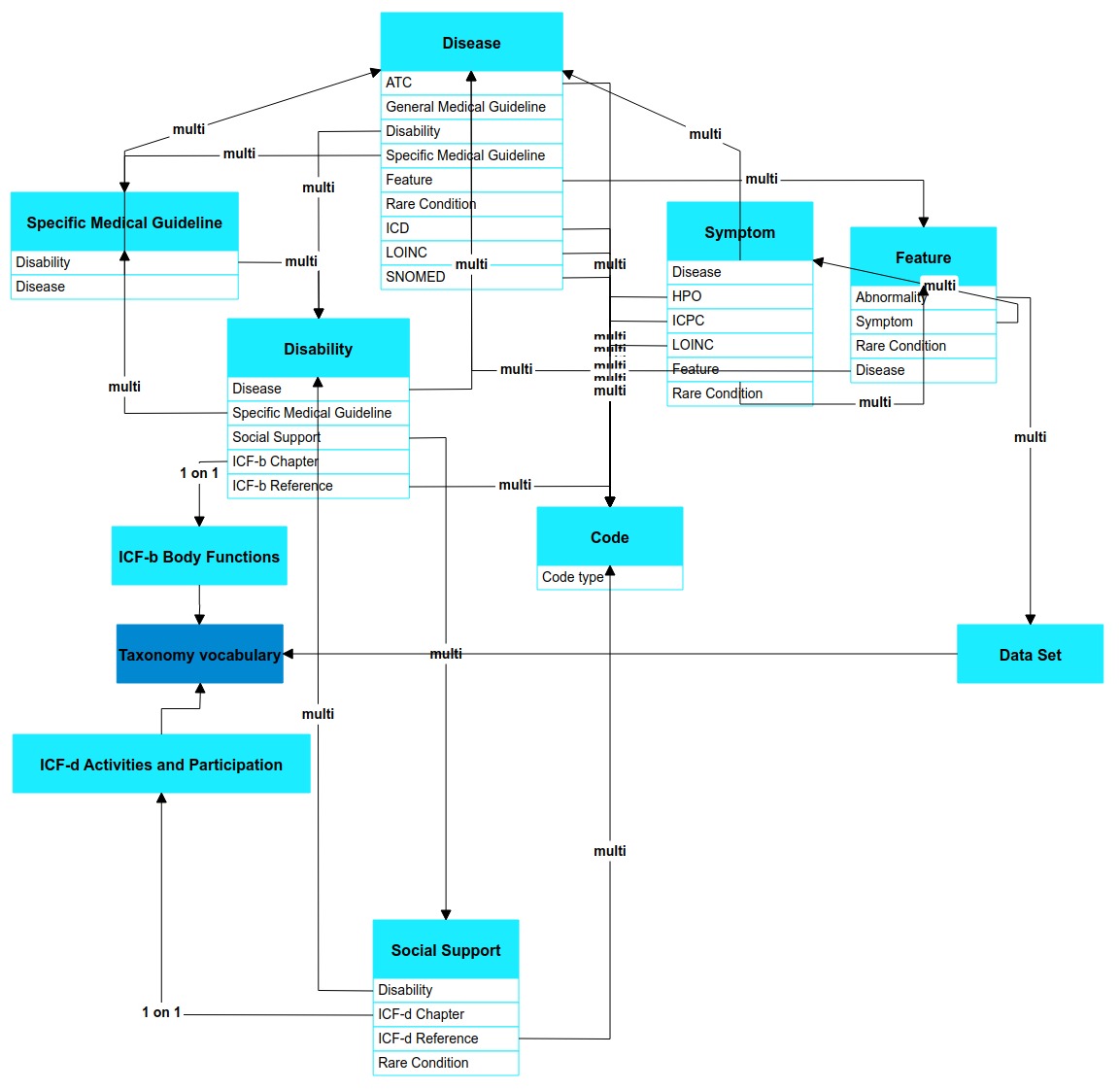 Code types (in alphabetical order)
ATC
The Anatomical Therapeutic Chemical (ATC) Classification is an internationally accepted classification system for medicines that is maintained by the World Health Organisation (WHO). The WHO assigns ATC codes to all active substances contained in medicines based on the therapeutic indication for the medicine.
DSM
The Diagnostic and Statistical Manual of Mental Disorders (DSM) is the handbook used by health care professionals in much of the world as the authoritative guide to the diagnosis of mental disorders. DSM contains descriptions, symptoms, and other criteria for diagnosing mental disorders.
HPO
The Human Phenotype Ontology (HPO) provides a standardized vocabulary of phenotypic abnormalities encountered in human disease. Each term in the HPO describes a phenotypic abnormality, such as Atrial septal defect. The HPO is currently being developed using the medical literature, Orphanet, DECIPHER, and OMIM. HPO currently contains over 13,000 terms and over 156,000 annotations to hereditary diseases.
ICD
The International Classification of Diseases (ICD) is the international "standard diagnostic tool for epidemiology, health management and clinical purposes." Its full official name is the International Statistical Classification of Diseases and Related Health Problems.[1]
The ICD is maintained by the World Health Organization (WHO). The ICD is originally designed as a health care classification system, providing a system of diagnostic codes for classifying diseases, including nuanced classifications of a wide variety of signs, symptoms, abnormal findings, complaints, social circumstances, and external causes of injury or disease.
ICF
The International Classification of Functioning, Disability and Health, known more commonly as ICF, is a classification of health and health-related domains. The ICF conceptualizes a person's level of functioning as a dynamic interaction between her or his health conditions, environmental factors, and personal factors. It is a biopsychosocial model of disability, based on an integration of the social and medical models of disability.
ICF-b
b Body functions
Body functions are the physiological functions of body systems (including psychological functions). Impairments are problems in body function or structure as a significant deviation or loss.
Chapters used on this website (taxonomy terms):
Mental Functions
Sensory Functions and Pain
Voice and Speech Functions
Functions of the cardiovascular, hematological, immunological and respiratory systems
Functions of the digestive, metabolic and endocrine systems
Genitourinary and reproductive functions
Neuromusculoskeletal and movement-related functions
Functions of the skin and related structures
ICF-d
d Activities and participation
Activity is the execution of a task or action by an individual. Participation is involvement in a life situation. Activity limitations are difficulties an individual may have in executing activities. Participation restrictions are problems an individual may experience in involvement in life situations.
Chapters used on this website (taxonomy terms):
Learning and applying knowledge
General tasks and demands
Communications
Mobility
Self-care
Domestic life
Interpersonal interactions and relationships
Major life areas
Community, social and civic life
ICPC
ICPC is a classification system that aims to reflect the content of primary care. The ICPC contains codes that are mainly based on the frequencies with which they are encountered in primary care and with a level of detail that is appropriate for primary care.
LOINC
Logical Observation Identifiers Names and Codes (LOINC) is a database and universal standard for identifying medical laboratory observations.
OMIM
Online Mendelian Inheritance in Man (OMIM) is a continuously updated catalog of human genes and genetic disorders and traits, with a particular focus on the gene-phenotype relationship.
ORPHA
Each of the nearly 7000 rare diseases listed on the Orphanet website has an Orpha code, meaning a larger number than those rare diseases that have either an ICD or SNOMED CT code.
SNOMED
SNOMED CT (Systematized Nomenclature of Medicine -- Clinical Terms) is a standardized, multilingual vocabulary of clinical terminology that is used by physicians and other health care providers for the electronic exchange of clinical health information.
Abnormality (Data Set taxonomy terms)
Past History
Family
Pregnancy
Birth
Neonatal Period

Neonatal complications
Jaundice prolonged
Hypotonia

Neonatal Screening
Congenital Anomalies
Measurements at Each Visit
Weight
Length
Head Circumference

Large / Macrocephaly
Small / Microcephaly
Vaccinations
The National Vaccination Scheme: DKTP, MMR, MC, Pneu
Present History
General

Feeding Problems
Recurrent infections
Physical Exam
General
Cranium
Face
Ocular region
Eyes

Light screening for cataract
Abnormality iris

Nose
Maxilla and Mandible
Oral region and mouth
Teeth
External Ears
Neck
Thorax
Vertebrae
Cardiac
Abdomen

Inguinal umbilical hernia
Hepatomegaly
Splenomegaly

Genital
Blood pressure
Limbs
Joints
Skin
Hair
Nails
Central nervous system

Hypotonia
Hypertonia
Muscle enlargement

Sexual development

Precocious puberty
Hypogonadism

Unusual Growth

Hemi hypertrophy
Hemi hypotrophy
Development Screening
Motor Development
Speech Development
General Development
Mental Development
Laboratory Tests
Screening Blood
Urine
Faeces
Last modified
28 June 2021